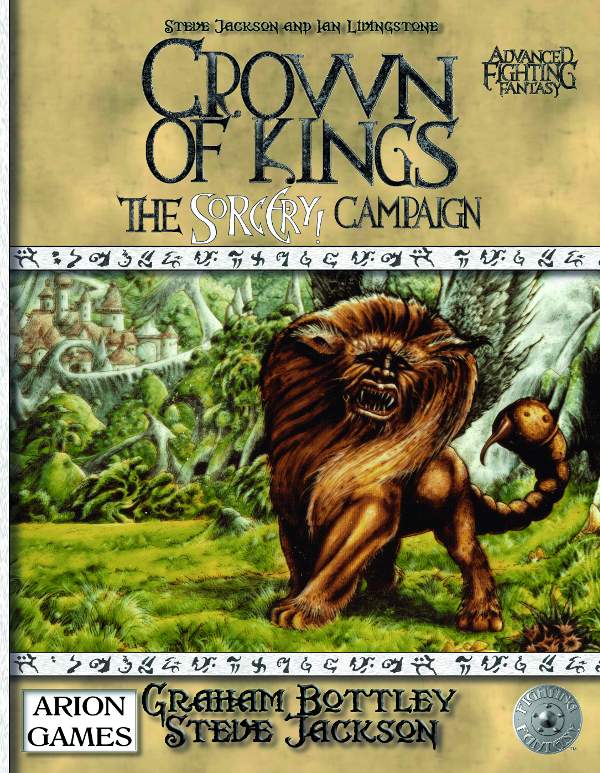 I don't know about you, but that manticore brings back fond memories of childhood.
I was a solo-gamebook player before I was an RPG gamer (then gamemaster) before I became a wargamer. I played RPGs regularly throughout my student days, but stopped after university. A few years ago I met Adrian through an RPG forum when Dragon Warriors was re-released, and we have been gaming since then.
I suppose nostalgia is one big part of why I still play RPGs (I still have the GrailQuest books I first bought almost 30 years ago), but like wargaming, it's the company that makes the experience worthwhile.
Anyway, in preparing for a possible RPG campaign based on "John Carter's Mars", I found out that Arion Games (which I get the paper miniatures I use in my RPGs from) is going to publish the Steve Jackson Sorcery! series as a
multi-player RPG campaign
.
This is really welcomed news to me because I was left hanging without the last module in the series after
Myriador
, which formerly had the license to the Sorcery! series abruptly closed down after releasing the first three. I have hoped to run the campaign with some friends but without a finale, it seemed pointless. Now, with Arion Games taking up the baton, I can once again hope.
The module will be in the 2nd Edition Advanced Fighting Fantasy format, but I am sure it's little work converting it into my system of choice. I'll be keeping a close eye for the release date then.